We recently had the privilege of attending the 2014 American Society for Clinical Oncology Annual Meeting where 35,000 scientists, researchers, medical professionals and advocates from around the world gathered to share cutting-edge scientific innovations and connect with other industry professionals. We sat in on some truly inspirational meetings and presentations that shed light on what's to come in the area of cancer research. Miss the live updates that weekend? No worries. Check out these need-to-know takeaways from our Patient Advocate Medical Consultant Dr. Laura Porter and get educated on what's on the horizon for our community.
[caption id="attachment_207" align="alignright" width="215"]
Dr. Laura Porter, MD, stage IV colon cancer survivor and Colon Cancer Alliance Patient Advocate Medical Consultant.[/caption]
1. Long-awaited results from the largest Phase III clinical trial for metastatic colon cancer resulted in gaining a deeper understanding about the treatment of KRAS wild type colon cancer. Researchers found that colon cancer drugs Erbitux and Avastin have equivalent overall survival and progression-free survival rates when either is paired with FOLFOX or FOLFIRI. The significance is that now either FOLFOX or FOLFIRI can be used in first-line treatment with Erbitux or Avastin, giving patients more options earlier on in treatment.
What this means for you: Patients now have more first-line treatment options and can use personal preference and concern for what side effects they may face. More data from this study is expected to come out over the next year.
2. The results were presented from CAIRO 3, another metastatic colon cancer trial. This study looked into whether patients should continue treatment even after they have shown signs that their cancer is not progressing. This particular study looked at the use of maintenance chemotherapy drugs capecitabine and bevacizumab. This study determined that patients saw positive results from remaining on maintenance chemotherapy.
What this means for you: There was debate for some time about the best approach to take once a patient's cancer was determined to not be progressing. This study showed that patients who remained on maintenance chemotherapy were not sacrificing quality of life for progression-free survival.
3. The results of three separate rectal cancer studies were released. The main takeaways from these studies are:
In treatment of rectal cancer, many patients are treated with radiation. Drugs are used to help sensitize the tumor so it responds more effectively to the radiation. The recent studies showed that adding the drug Oxaliplatin to a radiation treatment plan did not have an impact on the sensitization of the tumor. 
The cancer drug FOLFOX has been shown effective in reducing the recurrence rate in rectal cancer patients after surgery. This drug has long shown a positive impact for many colon cancer patients. 
The Cancer Genome Atlas mapped all cancer genes to learn more about the similarities of colon and rectal cancer. Due to their similarities, research conducted about colon cancer can also be extrapolated and applied to treatment and prevention of rectal cancer.
[caption id="" align="alignright" width="396"]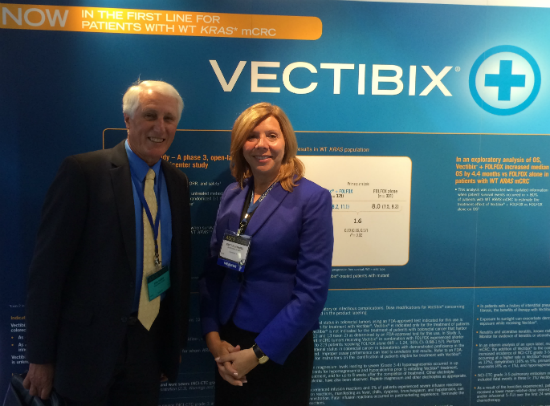 Our CEO. Eric Hargis, and Patient Support Director, Martha Raymond, taking in the exciting updates at #ASCO2014 last week![/caption]
What this means for you: Colon cancer and rectal cancer have many similarities. These studies help us continue to dive into these similarities to learn more and, in turn, provide more information to the patient community. Learning about what doesn't work when it comes to treatment is often just as important as learning about what does.
4. Dr. Andrew Artz spoke about his experience as a parent of a child with cancer. He presented these seven habits for patients and family with newly diagnosed cancer:
Understand personal goals for treatment
Keep detailed notes on your cancer journey (visits, symptoms, etc.)
Get a second opinion
Read about cancer from reputable sites if and when you are ready
Prepare for a long and inconvenient journey
Participate in a support group
Stay positive and look for inspiration
What this means for you: Whether you're a patient or caregiver, it's important to have a positive mindset. Sometimes it is easy to get consumed by the emotion of a diagnosis, but taking the diagnosis one step at a time may help alleviate some anxiety along the way.